Financial Realities of College-how much do you share?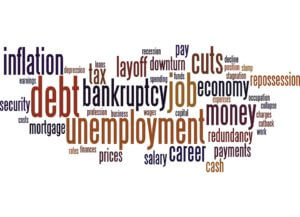 April 2017      
 "The Financial Realities Of College:
How Much Should YOUR Child Know Before Starting?"
Dear Parent,
As Spring rolls around it can become more and more challenging for many young people to focus on school, for a variety of reasons.  Of course, this is right about the time when the dreaded diagnosis of "senioritis" tends to set in for those students who are about to graduate from high school – but let's be honest, almost no student is immune to feeling a little bit distracted as the school year wears onward without any indication of ending, and the weather outside looks better and better!
Well, there are a ton of distractions that can affect students and their families when it comes to preparing for college, as well… and the simple fact is that there are certain details about college preparation that are vital for a successful transition to the next level of education.  Unfortunately, for a variety of reasons, these details are often ignored… and both parents and students can be guilty in this regard.  This can definitely have a deleterious effect on their levels of financial, academic, and personal stress during the college experience.
We understand fully that preparing for college or university studies can be stressful, in many ways.  Perhaps because of this reality, there can be a tendency for people to want to ignore some of the more challenging topics related to the transition to the next level of education.  However, ignoring these topics does not make them disappear.  By the same token, if only the parents (or, more rarely, only the students) are involved in these preparations, then it is not a team effort and there can be miscommunications and problems further down the road.  Our experience has been that it is absolutely vital for parents and students to have a mutual understanding of how things are proceeding for college preparation.
At the college level this becomes even more important, because the students are becoming young adults with a significant amount of autonomy, so a knowledge of how things are functioning is going to make a world of difference in keeping things on an even keel academically, financially, and in all other important elements of college life.
For this month's newsletter, then, we want to explain a few of the most important elements that new college students should understand when it comes to starting their experience in higher education.  Yes, there will be a lot of students in their peer group – far too many, in our experience – who have no idea about these things.  However, rest assured that this lack of knowledge will more than likely become something that will come back to haunt them in the end.  As college funding professionals – and people who deal with these things on a daily basis – we want to help you and your family to experience a smooth transition into and through college or university studies.  We have a special skill set and will be happy to assist in any way possible with your family's plans in this regard.
 Be Clear From the Beginning
Culturally, we tend to have many "taboo" subjects in the US. Depending on the individual, they may range from religion to sex to money. The subject of money, in particular when it comes to higher education, can get families into deep water if not dealt with from the very beginning with honesty and clarity.
How to pay for college should be a family discussion. This is a subject that should take center stage when getting ready to choose a school. It will have a lot to do with the choices your child will be able to make about where to go. It can also have a big impact on the family for the future.
If your child has his or her heart set on a 'dream' school then it is important to have the discussion and have the plans in place to cover the costs of such a school. This can all be done strategically and carefully, as well, with a thorough college funding expert. No parent wants to be saddled with massive amounts of debt when looking to cover costs at a prestigious school, nor do children want to feel that they have become a burden that the family has to bear in order for them to attend school.
Communication and (early!) preparation are really the keys, here. Will the parents be covering the entire costs of college? Will it be a combination of loans for the child plus what the family is able to contribute, or can this be avoided with proper planning?  (Note: it often can.) Having clear goals from the beginning and discussing those goals openly as a family will only bode well for the future college student. Tackling those goals with an expert will make it possible to move forward with those plans smoothly and successfully.
Focusing on the "Why" of College
Unfortunately, we see that not all kids and future college students have a clear vision of why they want to go to college and exactly what they want to get out of it. In fact, many visit colleges and make decisions on whether to attend or not based on a 'vibe' they get at the school, or where all of their friends are planning to go. That's not very thorough, to put it mildly. It is important to make the most informed decision possible when going to college. This starts with the 'why' of going to college and then extends all the way through to the 'where' of going to college!
Some of the things that should be discussed and explored before beginning a college search include finding out what your child's academic motivations are. Once these are laid out, it can be easier to look at options at that point. Clarifying interests and academic goals and motivations will make choosing the right college easier and it will mostly likely be a much better return on the investment. Students who enter college without a clear vision or purpose often tend to stay in college longer which, of course, costs a lot more money.
Say your child wants to go into investment banking. This is a field that is dependent on keeping close networks with specific training. A prestigious school – or one with industry connections – might well be necessary for these types of jobs. If this is known from the onset then plans can be made accordingly to identify the correct institutions, get into one of these schools, and also how to pay for it.
Not every child is so clear on his or her ambitions in the teen years, however. This does not mean that all is lost. If they are not sure exactly where their academic focus is you are still able to make informed decisions. If they are able to narrow their interests down to a few different areas then you can search for colleges that have strong programs in the areas where their interests lie.  All of these discussions, when completed early on, can go a long way toward making the transition to college more manageable.
How (Or How Much) To Contribute
Many parents feel guilty if they determine that their ability to completely pay for their child's education is not possible. It is easy to find parents who have gone into massive debt in order to make their child's dreams of a college education possible even when it puts their own financial stability in jeopardy. This is one instance where having a solid college planning expert will help to ensure that these types of dire situations can be avoided.
Parents taking stock of what is realistic and what their child's goals are will be very important in the part of the planning process. Do the parents want their child to attend a specific school?  Even more importantly, is that school a good fit for the student?  If so, is it currently possible to send them there, considering academic and financial realities?  What other options are available?  Once these questions are asked then the parents can move forward and see what will be required in terms of their contribution.
It is also important for parents to understand that where their child goes to college is not a reflection of their parenting skills or who they are as people. Keeping their child financially secure is a major requirement for parents and placing them in a school that they cannot afford and/or will place an undue burden on their child by way of student loans is not a great way for a child to be starting out in life. Planning ahead and making prudent choices based upon real financial circumstances and careful planning with an advisor will ensure the best choice possible is made that will benefit all parties over the long run.
Managing Parental Contribution/Retirement
There is no question that paying for a child's college education can be a big sacrifice for parents. Parents who have an average annual income of $100,000, for example, can find that college expenses for just one child run $100,000 (and that is being moderate)… which can mean that they should expect to work an extra 10+ years in order to recoup those costs. That could mean delaying retirement in most cases – or, as mentioned above, saddling kids with significant student debt.
Because of these realities, this is another area where careful and early planning can make all the difference. The right adjustments and placing money in the proper strategic places may help to prevent some of the drastic measures to which many people succumb. These are definitely things that can and should be discussed with the college planning advisor – and the earlier that happens, the better! 
Probably the most important element of this part of college preparation can be boiled down to "communication!"  When people do not know exactly what is expected of them (financially, or in any other facet of life) then they are much more likely to make significant mistakes.  This is even more apparent when it comes to young people who are just starting out on their own – at college, or anywhere else… the more things can be clarified and communicated, the more likely they are to be able to manage these expectations successfully.  As college funding advisors, we are focused on helping families make proper communication and excellent planning a part of their college preparation experience.We directly assist parents of college-bound students in understanding more about the financial preparations for college education via our live College Funding Workshops, presented with some of the best college funding professionals around.  These special workshops offer a valuable service to parents who have a desire to optimize the financial aspects of their student's coming years studying at their college or university of choice.There is no admission fee for these presentations, but due to limitations on space and our desire to create an ideal learning environment, we do insist on an advance reservation for those who wish to attend.  To receive more details about College Funding Workshops planned for your area, place a call to our workshop team members at 614-934-1515.  They will be happy to answer questions about locations, times, dates, and other workshop-related information.  Of course, they will be more than pleased to assist you with a reservation, too, if you would like to be in attendance.We also publish a special report for parents who seek additional information about the management of future college expenses.  We have published this report specifically with the families of college-bound students as an audience, and it is titled "Nine New Ways To Beat The High Cost of College." Like our workshop presentations, the report is available without cost or obligation.  To receive your own copy of "Nine New Ways To Beat The High Cost of College," just call our team at 614.934-1515 and the staff will send it via email.
Until next month,