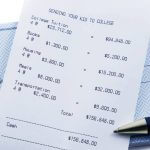 "Well-Intentioned (Or Uninformed)
Financial Decisions That Can Sink
Your College Funding Plans"
Optimally preparing for the requirements related to future academic endeavors is no easy task… as college funding professionals who have access to the best and most accurate information regarding the admissions process, we have garnered the experience and understanding for these challenges!
However, we also know that parents can make some very damaging decisions if they make their financial decisions on their own, or if they decide to take some poor advice that would make sense under other circumstances… but NOT when considering the college financial situation. We are certain that it is important to make the best decisions with all factors being considered, and there are a number of excellent reasons for making sure that this is so.
Preparing for college funding does not always follow the traditional common sense regarding savings and planning, because simply put, the rules are different (and they tend to change a lot, making an already confusing situation even more puzzling for most people). For this reason, it makes all the sense in the world to make certain that the correct rules are being followed, and that the efforts are not going to actually turn into more of a problem later on. There are a number of things that can interfere with a family's best efforts.
For this month's newsletter, we are presenting some common errors made by well-meaning parents and families when managing these details. Should any questions about these college preparation subjects pop up, or other similar issues arise, please be sure to give us a call. We have all of the pertinent details in these areas and provide the beat and most current information when it comes to managing college preparation efforts.
Please make sure that you do not fall victim to these well-intentioned problems!
1. Not Understanding Exactly What The Financial Aid Offer Says
This seems like it would not be a problem, but, sadly, for many families it is. Many families will receive an aid package from a college and not fully understand the nature of the aid stated in the package. Colleges are not always very clear about making the distinctions between loans and grants and that lack of clarity can get incoming students and their parents into trouble.
Many of the packages do not fully disclose interest rates or reveal the average monthly payments, etc. This can make it very difficult for parents to understand exactly what is being offered to their child. Moreover, many parents will look at the loan offer and make the assumption that it will reduce the cost of the tuition. This is, obviously, not the case. Only grants will reduce the cost of tuition and other college fees.
This lack of clarity may or may not be intentional on the part of colleges. In many cases, mathematicians are the only ones who can fully decipher a financial aid offer and calculate the ultimate cost over time. One of the ways to solve this problems is to ask questions.
Parents should ask whether or not loans will be 'front-loaded' meaning that the bulk will be offered during the first year but taper off over the following years. Finding out where the loan money is originated is also important to know.
Ultimately, if it is not explicitly shown… then be sure to ask and verify the answers. It is the only safe course of action.
2. Reporting Assets Incorrectly
Many families end up 'over-reporting.' This means that parents will include assets on the FAFSA (Free Application for Federal Student Aid) that are not actually required on the application. Many parents will state their retirement assets and their home equity on the FAFSA when that is actually not a requirement on the form.
Look very carefully on the form to determine exactly what is and is not required. Or, better yet, ask for your help from your college funding counselor who can guide you in the right direction and help you optimize your situation.
3. Co-Signing for a Student Loan Without Full Understanding
Parents will often gladly co-sign on a loan for their son or daughter thinking that it will release them from any obligation to that loan. That could not be further from the truth. Any person on a loan is equally responsible for the repayment of that loan. If a son or daughter fails to make payments on the loan, then the repayment obligation automatically falls to the co-signer. For parents, that means that they are on the hook as a co-signer.
Many parents think that because they are not the primary person on the loan that it absolves them from making any payments on that loan. It just simply isn't so.
It is important to understand exactly what is being signed – especially when it comes to student loans. Those obligations can almost never be discharged in bankruptcy, so students (and sometimes parents) will certainly be responsible for them.
4. Opting For a Private Loan Instead of a Federal Loan
Private lenders can be pretty tricky. Many interest rates that are advertised lately are as low as around 3%. Those low rates can look very attractive to prospective students and their parents. When compared to unsubsidized Stafford loans, which might be around 6 %, it can seem that one is getting a really good deal. That does not tell the full story, however.
The main difference with private loans is that the loans are underwritten. This means that the loan must be scrutinized by an underwriter and will often require a cosigner. The rates are often a 'come on' and do not reflect the actual rates that will be received after going through the loan approval process.
Another drawback is that these loans are often variable. That means that after the low introductory rate, the loan will go up in interest even to the double digits. The loans also do not have the same repayment options offered to those who get federally funded loans. The repayment process is often much more strict and that can be a strain on newly graduated students who do not have the income to make the full payments required on the loan.
5. Saving "Too Much"
The old adage, "A penny saved is a penny earned," takes on an even stronger meaning when it comes to college funding – and the rules for college funding can even turn this saying right on its ear. Let's say, for example, that your child has worked hard over many vacations and has $10,000 saved in a savings account under his or her name. That is just terrific, right? Well, maybe… but not so fast.
About 20% of those hard earned savings could well be added to the EFC (or Estimated Family Contribution) when the fed begins calculating eligibility for aid… which can often mean that the overall amount of financial aid eligibility is actually adversely affected by the student's own hard work and savings!
Now, there are other strategies to help work around this sort of situation legally, including continuing to save for your child's education – but it may be worth looking into doing so under a parent's name in another bank account. This is definitely a case where a chat with a professional college funding advisor can make a huge difference.
As you can see, making wise and prudent decisions regarding higher education financial planning – as well as college application strategies – can be an extremely challenging endeavor. It only makes sense to approach this effort teamed up with a college funding professional. Doing so allows families to understand and select the optimal strategies that correspond to their own financial and academic situations, meaning that the chances of success (both financially and academically) will climb.
All of the actions discussed in this month's newsletter are not rare – they happen each and every year to unsuspecting college-bound kids and their parents – and we view it as part of our professional responsibility to assist families in avoiding these problems, as well and many others like them. We have a number of tools to assist in this effort.
One of our most dynamic and effective options for the education of parents with high school kids who will attend college is through in-person attendance at one of our College Funding Workshops. These presentations are moderated and instructed by some of the finest college funding professionals available. We see these workshops as a dedicated, in-person option for parents who wish to inform themselves with the best informational set about all manner of financial "dos and don'ts," as well as governmental regulations related to their family and their higher education planning.
Our workshops have no admission cost, and are being held in larger venues to allow for social distancing. If you don't want to venture out quite yet, we have a short virtual talk which runs daily. Despite having no admission fee for attendance, we must make certain that each event has a group size that manages both space limits and our experiences with creating a successful learning environment. Because of this, we insist on advance reservations for the best possible planning and delivery of a quality event. Thank you for understanding.
Until next month